Dr. Randolph Hollingsworth – Monumental Statuary: Celebrating History of Kentucky Women?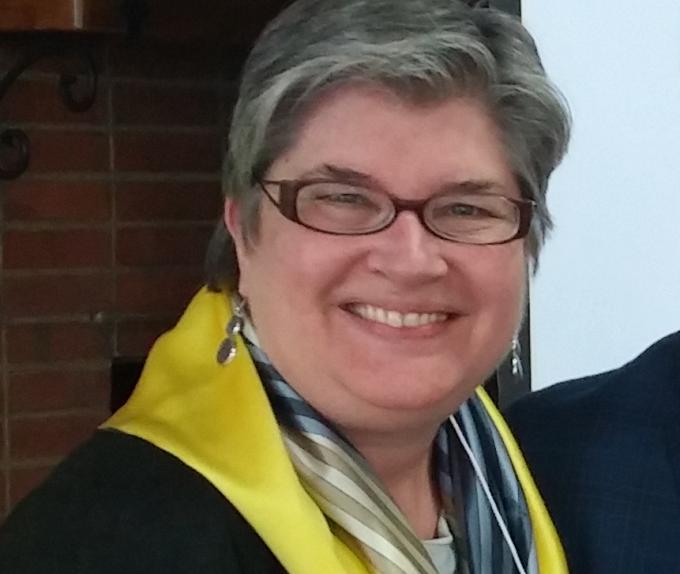 LEXINGTON, KY – The Rotary Club of Lexington held its weekly meeting Thursday, January 11th, at The Red Mile, 1200 Red Mile Road. The program's guest speaker was Dr. Randolph Hollingsworth.
Randolph Hollingsworth was born and raised in central Kentucky, the daughter of Betty and Kent Hollingsworth. Kent will be remembered for his work at The Blood-Horse and his being a long-time Rotarian here in Lexington.
Randolph earned her B.A. and Master of Arts in Teaching in New York, married Rich Greissman, a Northerner (to the consternation of her family elders), and then traveled to Zimbabwe for two years to teach. She and her family returned to Kentucky where she taught history and earned her Ph.D. at UK. Her two daughters continue the story of travel and higher education: Rudo, an artist, lives in New Zealand, and Eliana is finishing up vet school in Michigan.
Dr. Hollingsworth currently serves as an administrator at UK but tries to keep up her scholarly work on the history of Kentucky women through her work mentoring student researchers, digital history projects and community partnerships. She is the coordinator for the Kentucky Woman Suffrage Project, a collaborative effort to support the gathering of Kentucky women's history. This project is part of a national effort to prepare to celebrate the 2020 centennial of the 19th Amendment. For more information, visit the KWSP portal at http://networks.h-net.org/kywomansuffrage.
For additional information, or to attend this meeting, please contact Peggy Trafton at trafton@rotarylexky.org. 
401 West Main Street • Suite 305 • Lexington, KY 40507 • (859) 389-8100