On the Table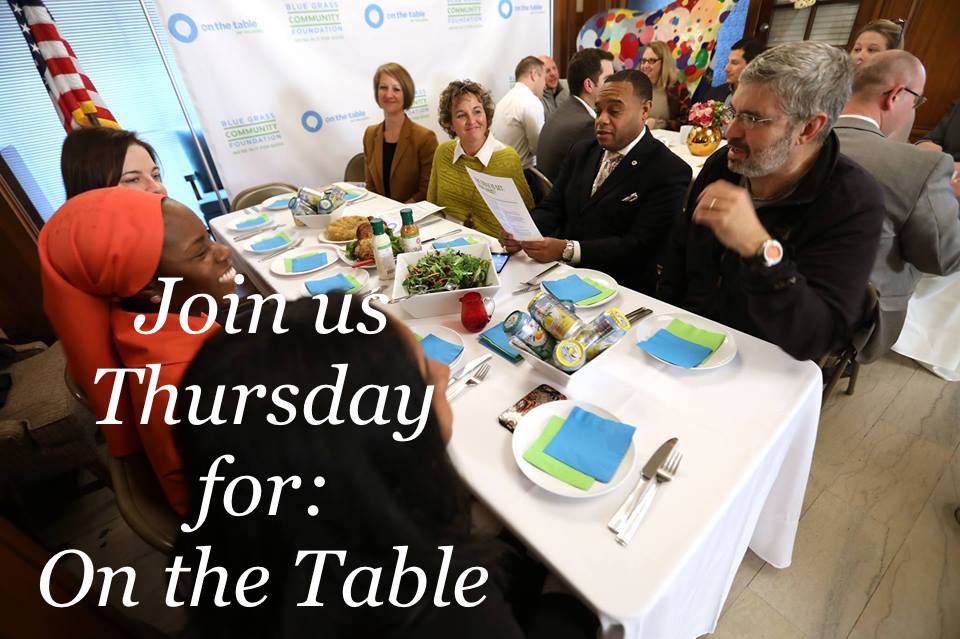 LEXINGTON, KY – The Rotary Club of Lexington held its weekly meeting Thursday, March 16,  at Fasig-Tipton, 2400 Newtown Pike.
In lieu of a speaker, our club participated in On The Table, a series of community-wide conversations designed to empower friends and neighbors to discuss important issues relating to Lexington's future.  Each table will hold its own conversation, and a designated Rotarian will record the highlights of each discussion.  Issues may include the local economy, infrastructure needs, land use policy, transportation, community/civic projects or anything else the table deems important.
Our conversations, as well as those from throughout the community, were collected and will be analyzed to inform Lexington's new Comprehensive Plan (a 20-year document that guides public planning) and Blue Grass Community Foundation (BGCF)'s philanthropic work.
Blue Grass Community Foundation will combine the notes from On The Table with a survey, which will be emailed to all Rotary Club members, to track the most important issues and areas of improvement for our community.  They expect to issue an Executive Summary of the project later this year, which will be available to anyone in the community.
On The Table is modeled after a successful project of the same name in Chicago.  Now in its sixth year, Chicago's On The Table hosts nearly 100,000 people for one day each year.  Their program has grown to include funding opportunities through the Chicago Community Trust, and several successful initiatives and partnerships have grown from On The Table conversations.
The John S. and James L. Knight Foundation is working with Lexington and nine other cities to expand the On The Table model throughout the country.  The On The Table Lex planning team includes Blue Grass Community Foundation, the City of Lexington, Fayette County Public Schools, Imagine Lexington and Leadership Lexington (including Rotarians Steve Stadler and Anne Donworth).
Why is Rotary involved? Our club has a rich history of community involvement, helping to spearhead key initiatives such as the merged city/county government.  Our members are informed, passionate and influential with a strong desire to improve the community.  On The Table is a chance for us to share our expertise and ideas in a meaningful way – all while enjoying food and fellowship with our fellow Rotarians.
For additional information, or to attend this meeting, please contact Peggy Trafton at trafton@rotarylexky.org. 
401 West Main Street • Suite 305 • Lexington, KY 40507 • (859) 389-8100