Robert King, President of the Kentucky Council on Postsecondary Education

LEXINGTON, KY – The Rotary Club of Lexington held its weekly meeting Thursday, April 20th, at Fasig-Tipton, 2400 Newtown Pike. The program's guest speaker was Robert L. King, President of the Kentucky Council on Postsecondary Education.
Robert L. King became the third president of the Kentucky Council on Postsecondary Education in January 2009. Since coming to the post, he has led statewide efforts to work collaboratively with his counterparts in K-12 education, has focused campus attention on student success, and is encouraging significant reform in teacher and principal training. He recently served on the Executive Committee of the State Higher Education Executive Officers (SHEEO), and served as its chair and vice chair.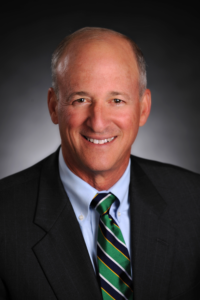 Mr. King is the former Chancellor of the State University of New York, one of the largest comprehensive systems of universities, colleges and community colleges in the world. More recently, he served as president and CEO of the Arizona Community Foundation, a statewide charitable foundation with a strong focus on education, economic development, and scientific research.
Mr. King is very active in community service and has volunteered and served on numerous boards and organizations. He currently serves on the Board of Trustees of A.T. Still University, a specialized university dedicated to training physicians, dentists and other professionals in the provision of "whole person" health care in Missouri and Arizona, and as a member of the board of the National Center on Education and the Economy.
In the past, he served nine years on the White House Commission on Presidential Scholars. In addition, he has served on the Education Committee of the U.S. National Commission for the United Nations Educational, Scientific, and Cultural Organization (UNESCO); as an adviser to the Middle States Commission on Higher Education regarding reauthorization of the Higher Education Act in Congress; the board of directors of the National Soccer Hall of Fame; and the board of trustees of Prescott College located in Prescott, Arizona.
Mr. King received a Bachelor of Arts degree in 1968 from Trinity College in Hartford, Connecticut, and a Juris Doctor in 1971 from Vanderbilt University School of Law. He is married to Karen, his wife of 40 years. They have four grown children and two grandchildren.
For additional information, or to attend this meeting, please contact Peggy Trafton at trafton@rotarylexky.org. 
401 West Main Street • Suite 305 • Lexington, KY 40507 • (859) 389-8100