April 27- Demetrus Liggins, Superintendent, Fayette County Public Schools & the Tommy Bell Award

LEXINGTON, KY – The Rotary Club of Lexington held its weekly meeting Thursday, April  27, at the Mane on Main, Chase Bank building on Main St. The program's guest speaker  was Demetrus Liggins, Superintendent, Fayette County Public Schools. The program will also featured the presentation of the Tommy Bell Award to a high school senior who excelled in athletics as well as acemdemics.
This meeting was also be on Zoom. For the Zoom link please email, [email protected].
If you would like to have lunch, please contact [email protected]  to reserve your meal.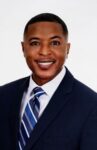 Demetrus Liggins joined Fayette County Public Schools as superintendent in July 2021. He began his career as a high school English and English as a Second Language teacher in Fresno, California.
Just prior to the move to Lexington, Liggins served for four years as superintendent of schools in Greenville Independent School District, an urban district of roughly 6,000 students outside of Dallas, Texas. Prior to his arrival, Greenville ISD had a "D" rating and faced fiscal challenges. Under his leadership, the district dramatically improved its academic and fiscal performance, earning a "B" overall, and a "Superior" rating for financial management from the Texas Education Agency.
Liggins, who is bilingual, led several innovative world language initiatives in Greenville, including a citywide literacy program in English and Spanish and a dual language program that created a pathway for students to learn academic content in both languages. Other programs initiated during Liggins' tenure included an elementary STEM academy, an Early College High School where students concurrently earn a high school diploma and an associate degree, and a partnership with Texas A&M Commerce that provides a pathway to college for every Greenville ISD graduate and free tuition for students from low-income families.
In 2020, the National School Public Relations Association tapped Liggins as a Superintendent to Watch for his fast-paced leadership and strong communication skills. He was also spotlighted as an Inspiring Leader by the Texas Association of School Administrators and received the Phi Delta Kappa Distinguished Leadership Award for Texas A&M University Commerce in 2019.
Liggins served on the Texas Association of School Administrators' Race, Equity, and Diversity committee, and was one of five finalists statewide for the prestigious H-E-B Outstanding School Board award.  He also completed the American Association of School Administrators National Superintendent Certification Program in 2020, as one of only three Texas superintendents in his cohort.
A native of Longview, Texas, Liggins holds a bachelor's degree in education and master's degree in English from California State University in Fresno, a master's degree in education from Stephen F. Austin State University, and a doctorate degree in K-16 educational leadership and policy from the University of Texas-Arlington.
Throughout his career, Liggins has developed a reputation for having high expectations for success resulting in stellar results and for being passionate about reaching youth and providing an environment for students to thrive in school and in life. He is known for investing in his colleagues and his profession, and he is a frequent presenter at professional conferences and a mentor to dozens of educators.
Liggins has one son, Vaughn.